A couple of weeks ago, Moser launched their new Streamliner, and I thought Ed Meylan did a great job of taking the absolute p*ss (in true Moser style), when he addressed comments about the dial colour being 'salmon' vs 'brown'. Apparently Ed is a keen fly-fisherman, and went on record with this gem of a tale:
"There is salmon and there is salmon. Our inspiration does not come from the traditional Atlantic salmon, or "Salmo salar" to give it its Latin name, but from its very rare cousin, the "Oncorhynchus kisutch". Allowed to mature in total freedom and massaged each day by specialists using an oil infused with aromatic herbs picked from the slopes of the Himalayas, this species only eats crustaceans that have been pre-digested by pink flamingos. Each individual fish is smoked using a secret recipe made using Scottish whisky. This is what gives the flesh this exceptional colour, and is the inspiration behind our new dial."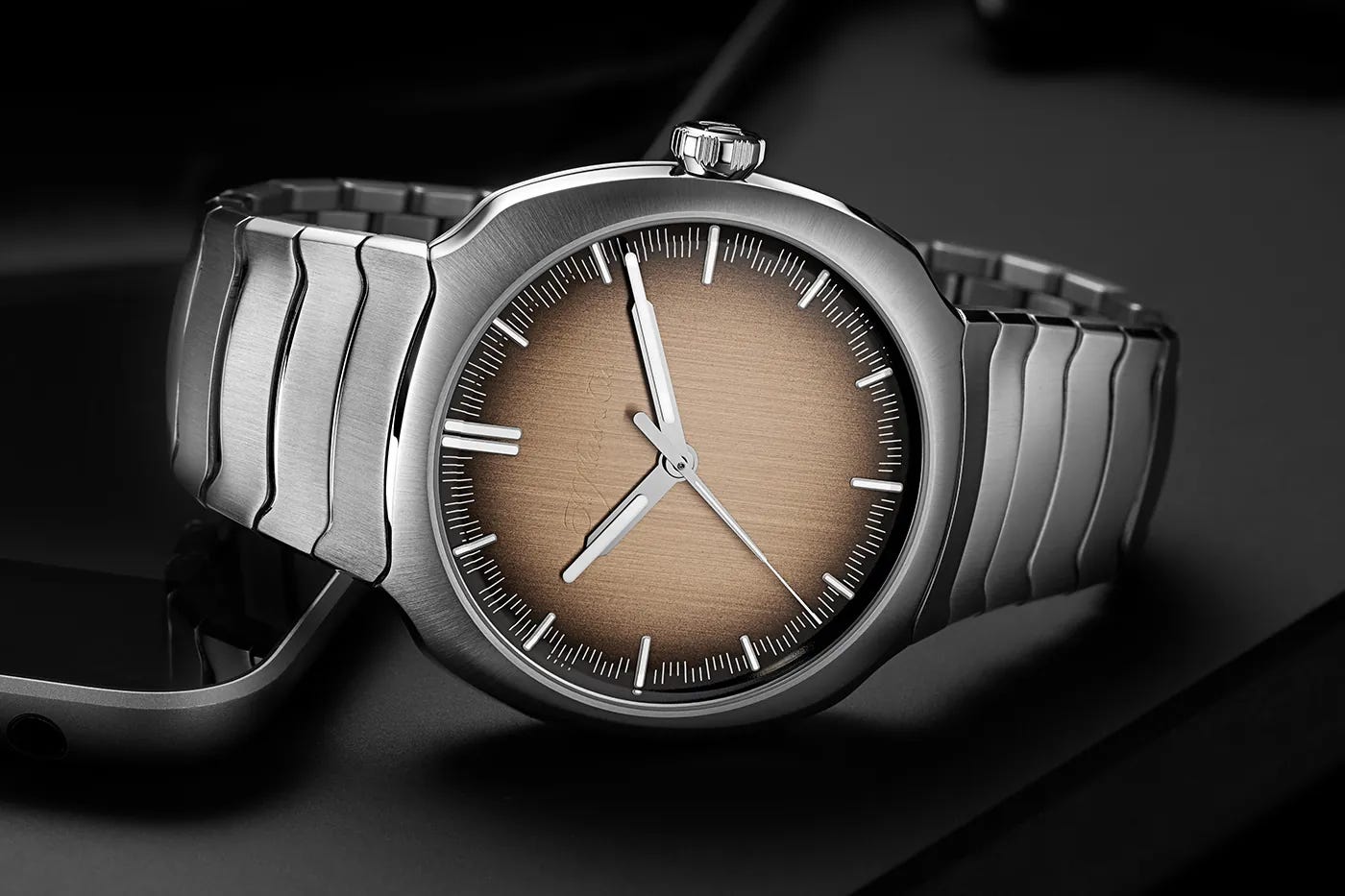 I haven't asked Ed whether he was being serious, but I think he was making a point about the stupidity of this debate in the first place. He could have called it a 'dusty pink' dial if he wanted to, what difference does it make? According to Chris Hall this was interpreted by some as a subtle dig at Grand Seiko's approach to describing their dial colours.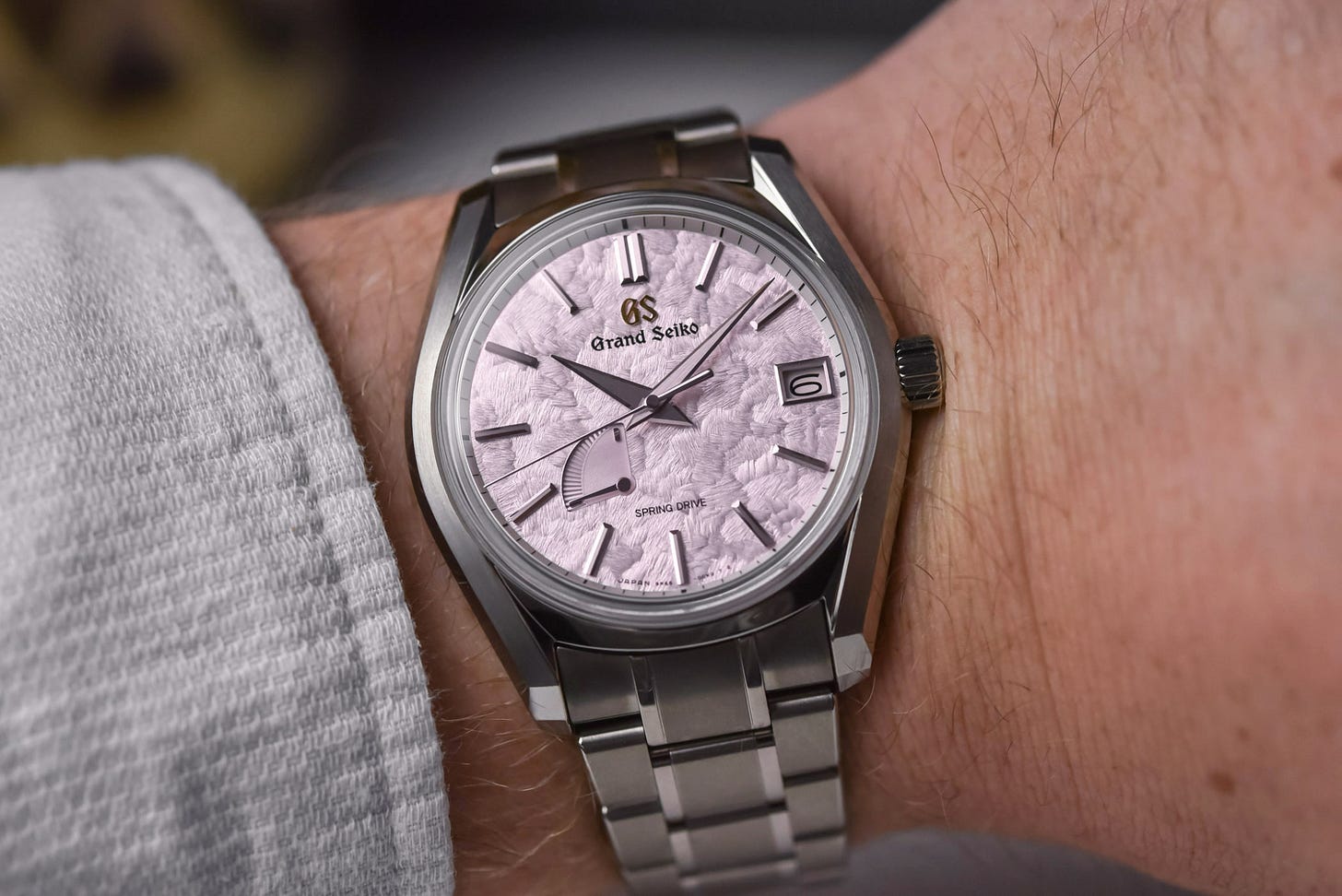 This is the The Grand Seiko "Shunbun" Spring Drive Pink Dial SBGA413 which you can read about here on Monochrome (same place I lifted the image from, for the record). This is how GS describe the dial:
To look closely at the dial is to be transported to Hana-Ikada, the much-loved scene at the moment soon after the spring equinox, Shunbun when cherry blossom petals scattered by the wind cover the surface of a river. The textured dial and its pale pink color capture the magic of this treasured moment in the Japanese calendar and not only express the beauty of Sakura but hint at the exquisite pleasure to be derived from a profound understanding of the ephemeral nature of time.
If I wasn't a watch enthusiast, I would be convinced the GS marketing department are all ingesting copious amounts of ayahuasca! As a fan of the dial, you can read that description and convince yourself that it 'makes a lot of sense', and provided you believe it, who am I to argue with you?! The point being, this is the nature of the industry. where the value of storytelling is amplified, as people try to justify emotional purchases of objects they do not need. In fact, I even wrote a post about this a few months ago!
Isn't that the opposite of brevity?
A while ago, around 2012 if I recall correctly, I worked closely with a senior business development executive in my role at the time, and we would visit the Ministry of Oil offices in Baghdad to negotiate oil & gas contracts. This fellow was, by almost all accounts, perceived to be absolutely heartless. Most people were afraid of him, and he rarely spoke to people around the offices in London or Dubai.
The thing is, I knew of a completely different side to him. Sure, I could understand why he had such a bad reputation around the office, but in certain settings, he could turn into someone else entirely. He could make small-talk if required, but he did it out of necessity; relationship-building with counterparties, or during his downtime after hours… he was a really likeable fellow. He just didn't have time for the corporate clowns around him who only sought to kiss his a*se instead of getting things done.
Point is, I learned a lot from him, brevity being one of those things… and it was in fact this fellow who shared the following memo with me (available here as well):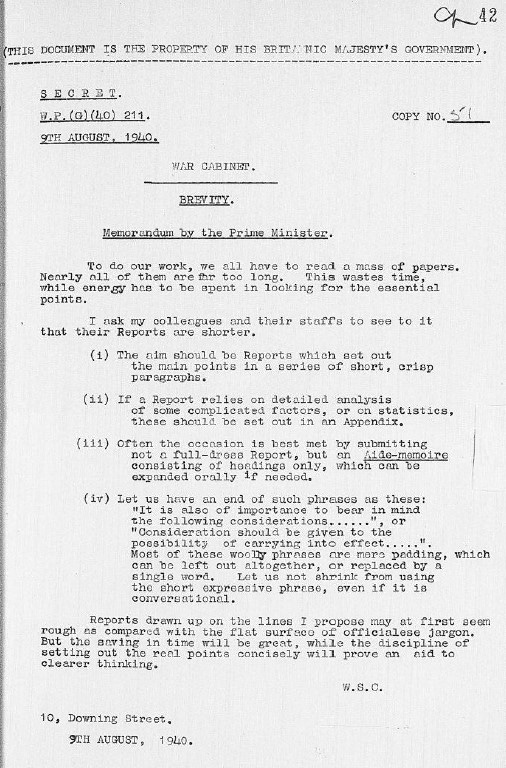 In the early days of the Second World War, with the Battle of Britain still raging over the skies over London, Prime Minister Winston Churchill issued a one-page memorandum to his staff pleading for brevity. Churchill is known for many things… not all positive – but this is one thing which I respect him for. Turns out, it used to annoy him very much, and he would often reiterate his desire for brevity. Same as my colleague… lets take a look at a few more examples from Churchill before we continue: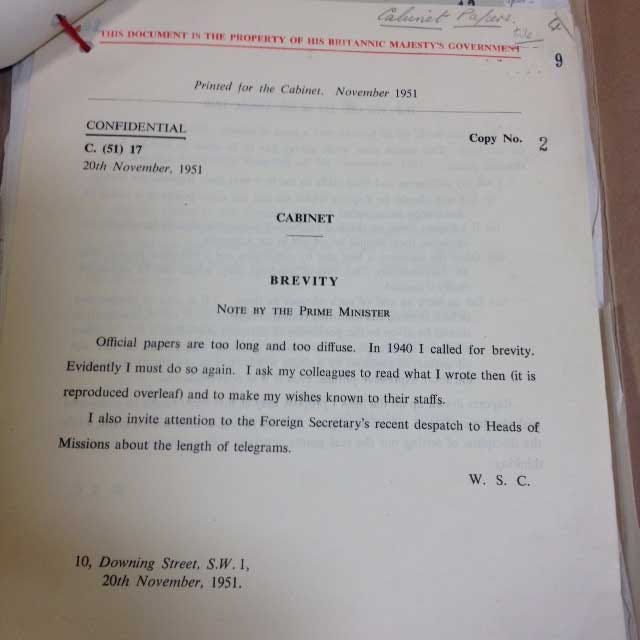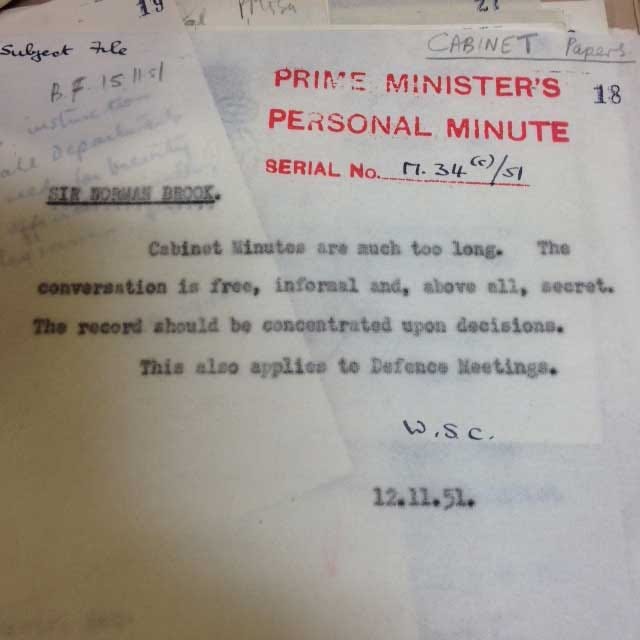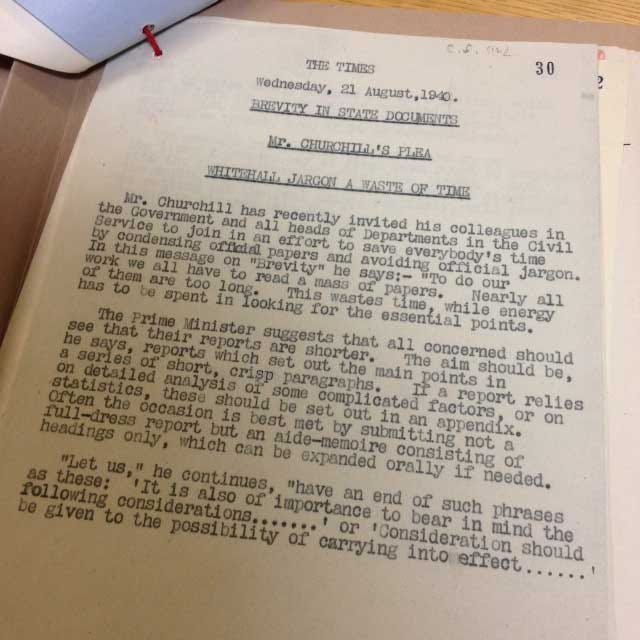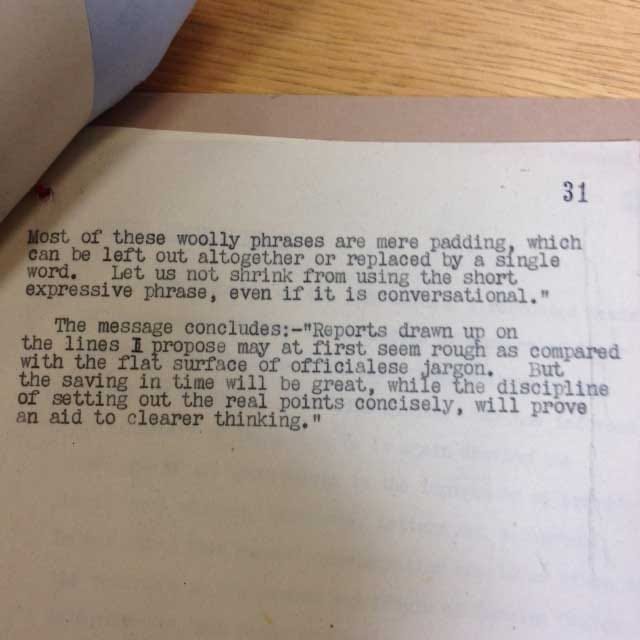 Here's another one, which shows that the message was cascaded through the civil service as well: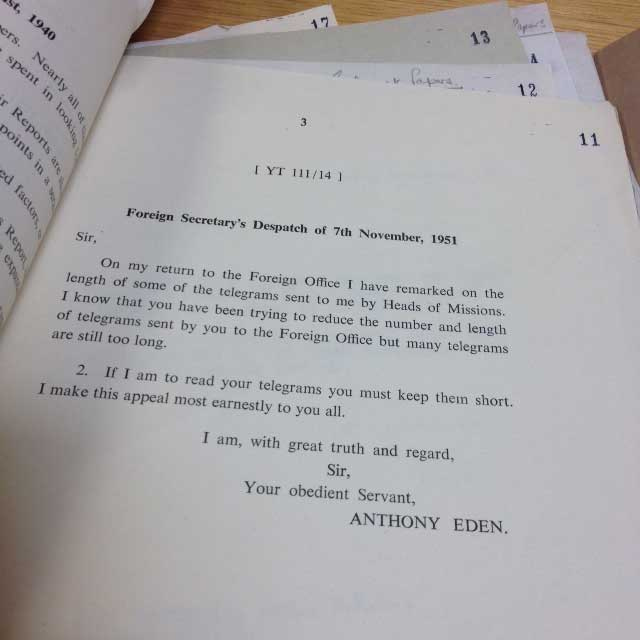 Conclusion
This post is the result of me seeing the Moser description of the salmon dial, and recalling the Churchill memo about Brevity… so strictly speaking, this was never about watches! With that in mind, as I started writing, and reviewed my post about the value in a story… I asked myself where I think watch brands could do with a bit of brevity.
The first thing that comes to mind is of course, the allocation policies and principles. Beyond that, the way they handle things like allocation or price increases. These are areas where I would say brevity is completely lacking.
I describe it as 'lacking brevity', because what watch collectors get instead, is long-winded bullsh*t! This wastes everyone's time, and really erodes the relationship equity with each brand.
Instead of saying things like:
"before the launch today we had already allocated 50 pieces of this 100-piece series to existing collectors and the remaining 50 pieces to the most recent 50 visitors who came to our atelier in Geneva"
… brands will say silly things like:
"we are proud to unveil this 100-piece series and we will be taking reservations on a first-come-first-served basis. Please contact your local AD or the brand directly, and register your interest"
F*ck off! Lol. I think the brands which are transparent, communicate clearly (even when the rules are biased in favour of good relationships) and act in good faith, are the ones which we can expect to have longevity with collectors. So what, if a brand favour collectors who made a 'pilgrimage' to Geneva? I think that's fair enough. If you are too busy to visit, then you don't get one – wouldn't you like to know this, so you can adjust your expectations? Everyone wins.
Brevity. Clear, concise messages. Worth their weight in gold (time). Who's with me?
*crickets*
PS. If you enjoy reading these posts, please do me a solid and sign up to my Substack here… I am probably going to transition to Substack so subscribing there will ensure you receive all future posts directly via email.